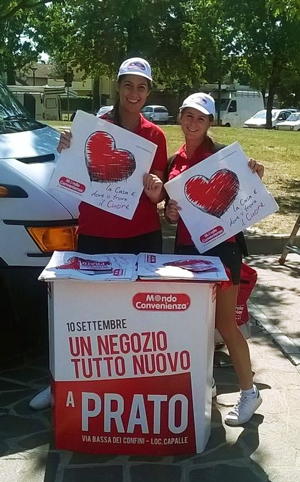 Hostess & Promoter collaborates on an ongoing basis with Mondo Convenienza, the most important Italian brand for furniture retail, through a collaborative partnership for the in store promotions and the promotional tours.
We have organized the recruitment and selection of staff for retailtainment projects in  PoS and MA, but also out-store activities, like sampling distribution along the beaches and in the local markets of various Italian cities.
Our Agency, after a careful research and tests in the area, has provided various services to Mondo Convenienza, including:
-the selection of the locations in each municipality, managing the request for the occupation of public land and the permits for leafleting .
– the selection of the most important local markets, according to the number of banks and the influx, as well as the management of logistics and permissions.

– the selection of the most popular seaside resorts on target with customer requirements for the summer tours.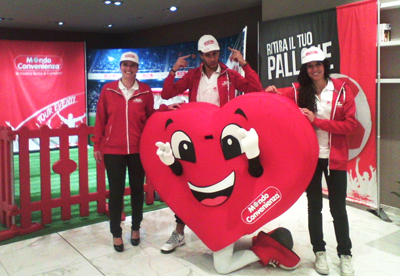 – la gestione degli spazi espositivi (selezione e gestione del permessi) nei Centri Commerciali in linea agli obiettivi profilati dal cliente per l'in store promotion.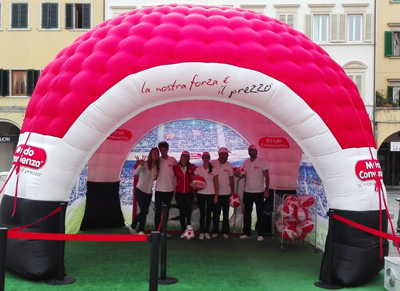 the management of the exhibition space (selection and management of the permits) in shopping malls according to the defined goals for the in store promotions.
For the logistics Hostess & Promoter directly managed the storage of promotional materials in its warehouse in
Florence with the support of its Logistics Division. In fact, our staff  managed all the deliveries shipments, thanks to its network of partners and local referents.
The result was a great visibility given to Mondo Convenienza brand in all in-store and out store promotions : the capillary action due to the presence in the territory of Hostess & Promoter allowed to promote the product according to the target profiled by the client.
Check out the next event of Mondo Convenienza at its official page.