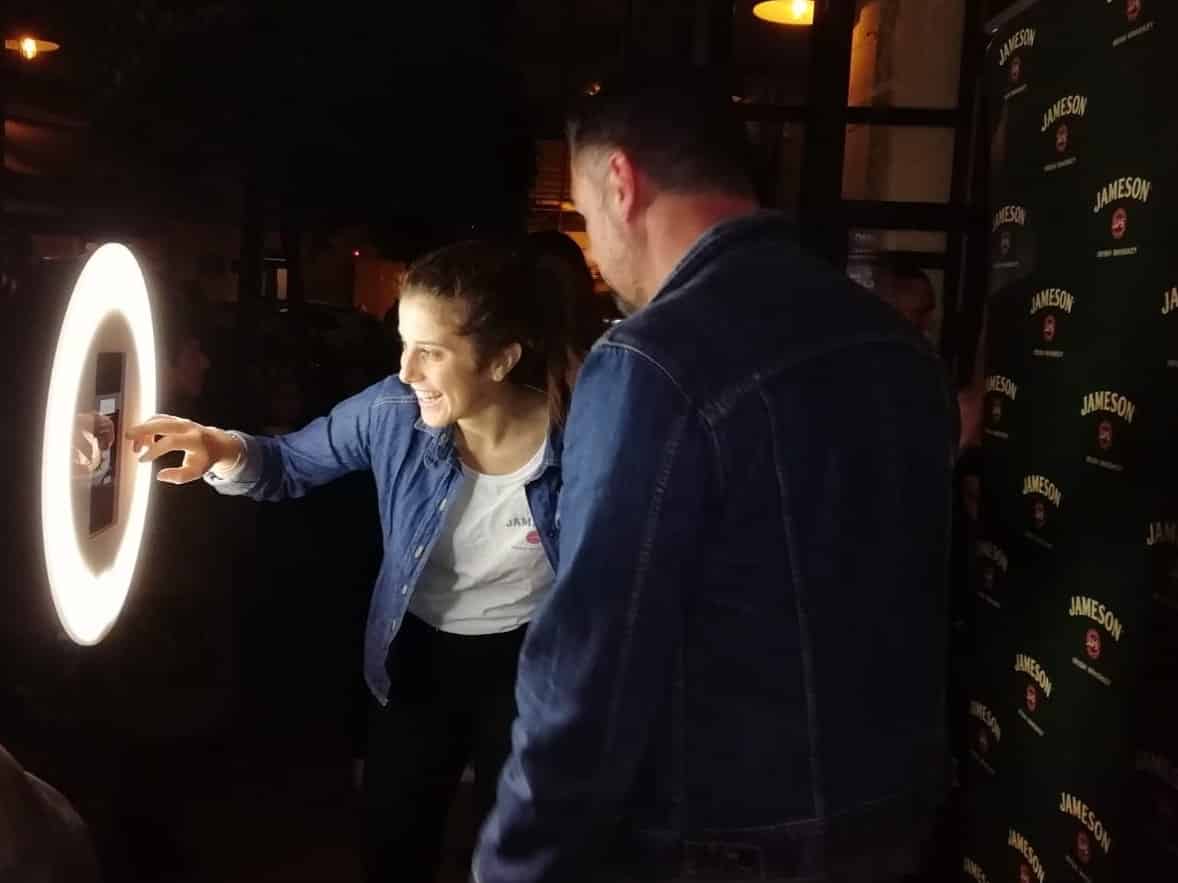 They are called in many ways: Photo Booth, Photo Box, Print Station, Totem Print, Sharing Box, Photo Box, Photo Booth Box, Selfie Box, Vintage Cabin…..we just mention a few, but we could go on to infinity.
Photo booth and sharing box are increasingly recognized as the real protagonists in the offline promotional mechanisms to support digital: many B2C companies choose them for their promotional actions.
Sharing Box, Photo Booth or Selfie Booth represent a new basic support in today's digital landscape. The ever-increasing offer of products and services related to digital devices in promotional mechanics has already become fashionable.
Brands attitude: how digital affects promotional mechanics
If we want to be fiscal, it is a fashion that has already been surpassed by the unparalleled success of the increased reality, which with displays positioned on the face, open to the possibility of enjoying content and images not perceptible through the 5 senses. This process transmits new inputs and stimuli to which we are not yet accustomed, but given the rapid digital development, it is guaranteed that we will be soon.
The offer of field marketing products and services no longer follows the logic of the last century.
Today we live in the plurality and coexistence of many small worlds and ways of conceiving life, from the choice of what to eat, to the conscious use of recyclable materials, in a much more individual and personalized dimension.
But what are the advantages of Photo Booth activities?
Real-time and viral impact. The viral impact that an act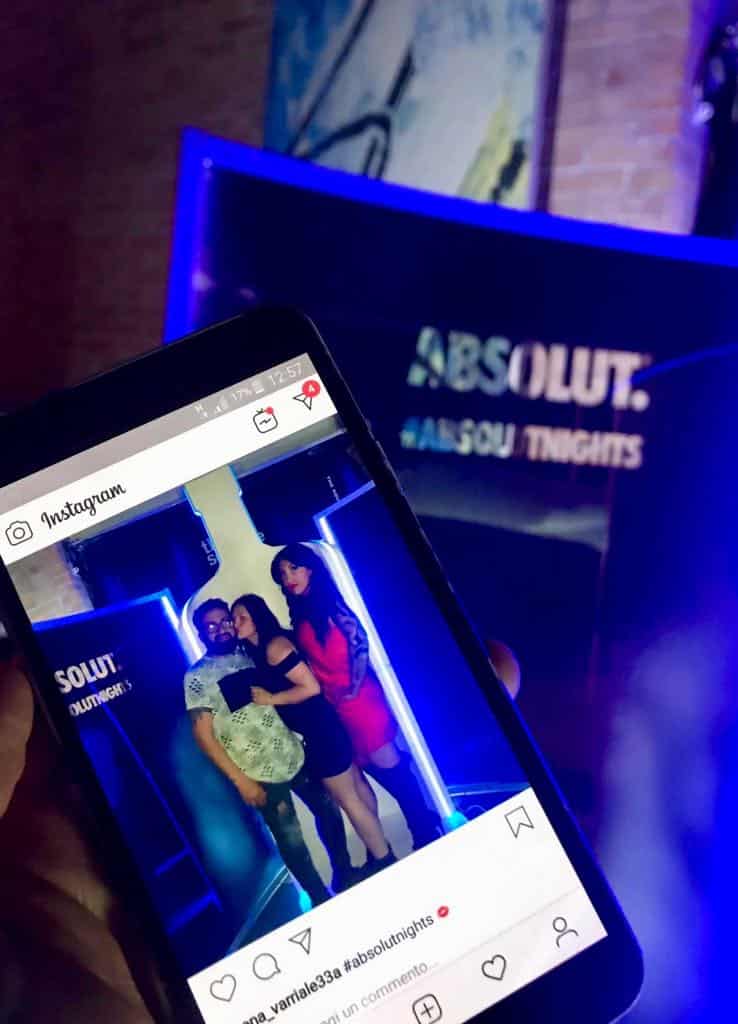 consumers and all his contacts as well.
The box photo offer is very high and in real time. It creates, in fact, a chain reaction in the devices of the potential Through the'use of hashtag you exceed the size of direct contact and you cross the network reaching users who have no connection between them, except for having used the same hashtag.
Photo booth and Sharing box for instore or outstore?
In times when influencers are among the most sought-after professions by young people, large companies prefer to have potential consumers talk about their products instead of the usual self-referential messages.
brand is much more credible if it is brought to light 'spontaneously', or stimulated by smart team marketing managers, who plan fresh and original promotional activities. In fact, it is the company itself that gives precise indications on the choice of the main hashtags, motivated by planned and structured marketing actions. Nothing is left to chance in marketing.
Photo booth and Sharing box: the main actors of the outstore process
It will be the person hired by the hostess during the activity, who after taking an original photo in a kiss room, or inside a vintage car, will be pushed to post it on their pages.
Often it is preferred to motivate the audience with gadgets or free products where it is shown to have posted the photo with the right hashtag, indicated by the hostess during the shot.
For centuries, the same old rule of quid pro quo has worked and continues to work in the business. If the activity is linked to a national tour and therefore to a succession of dates on more than one city, the results at the end of the project will be visible in terms of traffic and interactions on the social pages of the brand.
Photo booth and sharing box give visibility, strengthen the brand and create loyalty
If the viral impact is high, visibility and focus on the product or service is 100% guaranteed.
The best way to present a new product is through the consumer himself, while tasting, wearing a garment or using a service. If you have fun or feel good, it's even better!
Confirming your presence on the market today is essential, if the rule is true: "if you don't exist online, you don't exist at all".
And then, what's better than being on the bulletin boards of your target audience?
Using innovative or entertaining devices such as video booth can attract the attention of multiple targets, sensitive to both digital and video. Creating a shared experience will facilitate brand loyalty, mindful of the happy memory.
Today the photo box is a real craze, which seems to be neither old nor shady. When it comes to using a branded wall paper with a flash in front of it, it is very easy to involve passers-by.
They will be the ones who will push friends, relatives, boyfriends to participate in the shots and therefore in the promotional activity.
When the promotional dynamic is well studied, the customer does not even realize that he is participating in a real operational marketing action.
How to involve potential customers with photo booth and sharing box?
Making the approach spontaneous that the interlocutor will not raise the defensive barrier, but will be listening actively and therefore easily convincing.
These aspects encourage large B2C companies every year to plan promotional dynamics that create experiences to share with their target audience, in an increasingly two-way relationship.
Every moment is good to amplify emotions and make everything real and accessible.
Whatever the objective of this massive use of so-called digital devices, the fact remains that this phenomenon is growing at an important rate and companies are increasingly attracted to it.
The plus of a field marketing strategy with both photo and sharing box.
To be visible and to experience real and instant emotions to be shared in every sense, with friends and on social networks!
Moreover, 5 billion people in the world today own a smartphone, it would be crazy not to consider such an important fact.
From the time of the Baby Boom we passed to the famous Generation X and then landed at the contemporary Millennial, the so-called hyper-connected generation that spends an average of 4 hours a day on various digital devices.
It would be foolish not to take advantage of this permanent and consistent presence that unfortunately touches from the smallest to the most agé; a funnel where you can throw content, stories, ashtags, memes in order to be remembered.
Sharing box and photo box: Digital and Marketing operating under the banner of an infallible marriage.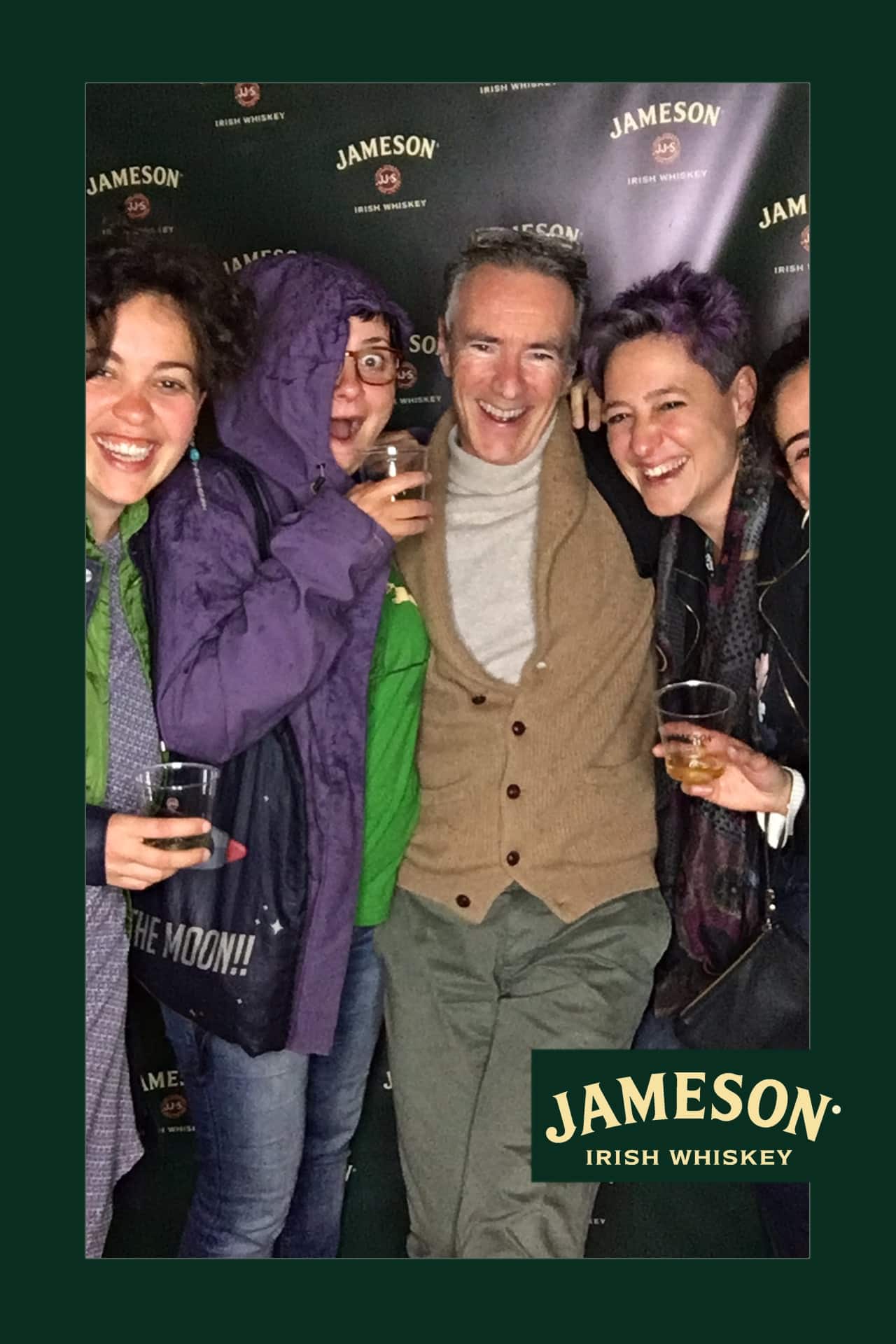 The combination of digital and operational marketing brings many benefits, among them:
Pushes the drive to store by increasing traffic at the point of sale, at the promotional banquet or in an area where a promotional activity is taking place. In marketing it is said: People bring people.
As the activities that revolve around funny shots or original experiences generate an organic audience that would queue for hours. If we add the gadget the turnout is guaranteed!
Archive personal information and data easily, sometimes irrationally.
Makes a survey on the perception of the real time brand feasible
Assures a follow up with the customer in a second phase. Often, in fact, the personal data are functional not as hot contact, but after leaving a positive memory. We will have a less emotional and impact phase, perhaps more informative and rational, but by then we will have created a basis of trust, essential for the beginning of any relationship.
It offers an interactive and playful experience that is difficult to give up
The promotional mechanics of the Selfie Box
Promotional mechanics such as the Selfie Box are even more used because they do not presuppose interaction with a third person, such as the hostess, but are designed for use in self-service style.
Beyond the photos there is more', such as the GIF, entered with a tense leg already for a few years and become a digital catchphrase of which we still do not feel saturated.
How to use promotional gifs with photo boxes
GIFs in promotions are often created thanks to photo boxes and then sent by email to participants and shared on their pages at a later date.
In real time, the same GIFs are projected on giant screens, during an event or an event. This kind of mechanics usually generates a very high drive to store to the post of photo booth, with the most curious or eager to see their image reappear large to a public, more or less large.
Photo booth and sharing box: Live experience, Digital Fun, 360° Engagement
Live experience, Digital Fun, 360° Engagement – the market today puts shared experience at the forefront, a must that contributes to brand value and online visibility, which as we mentioned earlier, are mandatory elements for the current survival on the market.
Another fundamental requirement is WIFI, without which the business would lose its impact.
Hostess & Promoter supports many activities with digital devices, including the famous brand of chips, Pringles.
We were asked to support a roadshow activity on the beach linking the product to fun and musical entertainment to bring fun and taste to Italian beaches.
Primary objective → to promote brand awareness of the different flavours of Pringles and to strengthen brand perception.
The team of hostesses & Promoter encouraged bathers to participate in the promotional dynamic, with an initial approach to product tasting.
In addition to the presence of a stage, a DJ and a mascot representing the famous Pringles icon, the main element remained the Selfie Station, a device designed to take and print snapshots.
The participants in the game could use props, helped by the staff of hostess and steward, to make the photos even more fun.
2 summer events were held for Pringles, one with selfie station and the other without: the turnout and involvement in the promotional dynamic was 3 times higher with the presence of digital support.
Sharing box and photo booth: use them yes or no?
Whether we like it or not, digital support also makes a difference in operational marketing.
Perhaps the desire to show oneself to others through apparently narcissistic behaviors serves to legitimize one's presence within communities in which one wishes to be recognized so as not to feel the great uncertainty and contemporary loneliness.